Character Fields: Basic Tests
Due to their complex nature, character fields may require more than one command for testing. Some are straightforward, using the Count command with a filter that includes a function:

• Blanks >> Count If IsBlank(<field name>)
• Short lengths >> Count If Length(Alltrim(<field name>)) < 3


Character Fields: Format Testing
For systems with weak or nonexistent input validation, it's useful to test the format of a character field if the format of the data is expected to be consistent. Fields such as phone numbers, postal codes, and custom ID numbers are examples of such data.

The Format function is of great value as it reveals the underlying format of text fields. Used in conjunction with the Classify command, it will reveal how many formats exist in a given field. Format replaces numbers with "9", letters with "x" or "X" (depending on the case) and displays all other characters.

In this case, vendor data has been assembled from multiple sources. Although the data entry team was informed that only the digits should be entered, it's clear that the Phone_Number field data has been entered in multiple, inconsistent formats: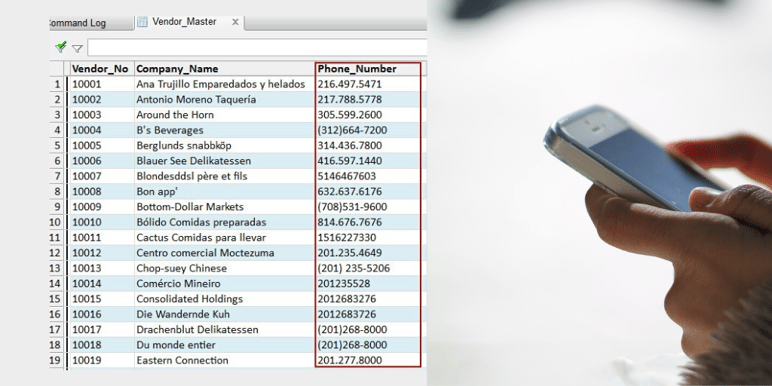 To determine the number and structure of the various formats, we can create a computed field and then run the Classify command to display how many formats are being used and to what extent.

First, we define a computed field that reveals the underlying format. Go to Edit >> Table Layout >> Add a New Expression. Name the new field Phone_Number_Format and click on the "f(x)" button to open the Expression Builder.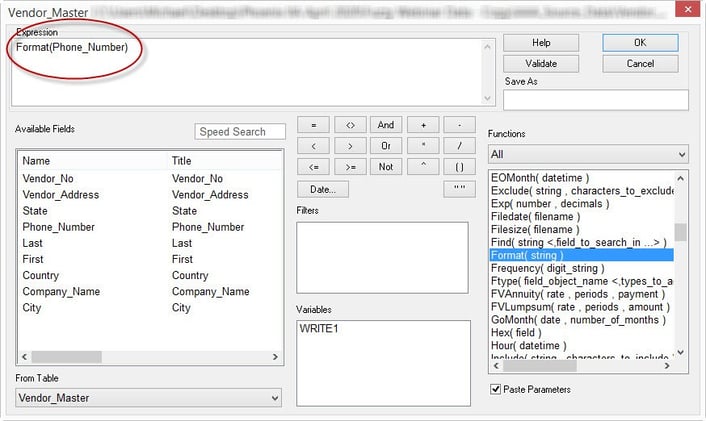 In the main dialog, enter Format(Phone_Number) in the Expression box to add the new field to the table layout. Back in the view, add the new field next to the Phone_Number field.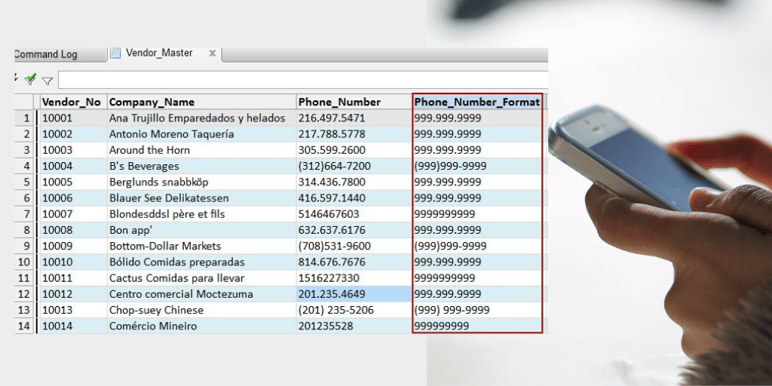 Next, run the Classify command against the new field. You can specify the "TOP" parameter to sort the results in descending order of frequency. The output will display all formats detected and their number.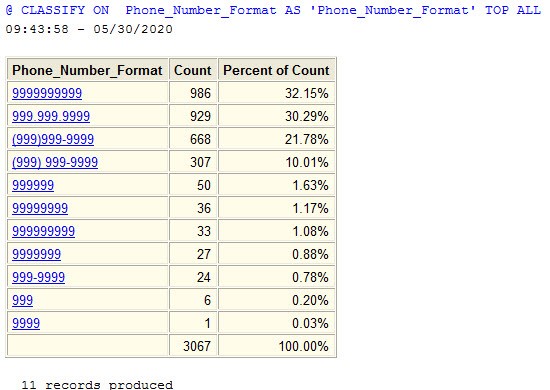 Eleven different formats were found.
If you need to harmonize the phone numbers in order to search for duplicates or to match against another set of phone numbers, a computed field such as Phone_Number_Clean using the Include function would do the job:
Include (Phone_Number,"0~9")
This would strip out all characters except numerics.
If the existence of phone numbers that were not ten digits needs to be followed up, the associated records could be extracted to another file using the following filter:
Length(Alltrim(Phone_Number_Clean)) <> 10