How Arbutus Helps
Without the right tools, creating rules that correctly handle the issues noted above can be more challenging than you might think. The goal, as with most tasks, should be 'simpler is better', and this is where Arbutus comes in.
Arbutus can automatically perform all of the normalizations noted above, and more. Two addresses as different as "#200 - 1234 W Main Street" and "1234 MAIN ST. WEST, Suite 200" match perfectly, every time, and with just one command!
Example: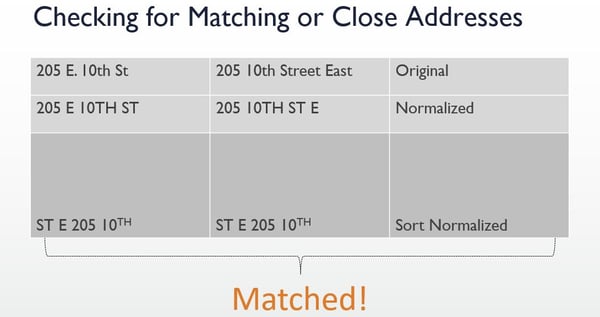 The Normalize and SortNormalize functions within Arbutus Analyzer automatically apply a wide variety of techniques, including those mentioned here, ensuring maximum performance for your data blending analytics. A computed field as simple as: SortNormalize(address, "USPS") will accomplish this powerful normalization, which can then be used to dramatically improve your results when matching addresses.
Analyzer's proprietary normalization technology is fully user configurable, and automatically whole-word based. It allows either the replacement or elimination of any words or abbreviations. It is also designed for industrial use, so you can easily handle hundreds (or even thousands) of distinct terms, in datasets with tens or even hundreds of millions of records.
You can update your lists at any time, to reflect experience or new ideas. You can also create separate lists for each distinct type of normalization, whether by area, language or whatever the need. You can even reference other important external lists, such as watch lists or other relevant content, to leverage the knowledge of others.
Finally, and very importantly, the lists you use to normalize addresses are totally separate from the scripts that use them. This means you can update, refine or add to your criteria at any time, without changing any scripts.