Duplicates, True and Fuzzy
Finding duplicates appears, on the face of it, to be a simple, binary task: either two things are the same or they aren't. However, for auditors and other analysts, there exists a third, grey area—two or more items may resemble each other to a great degree without being exact duplicates.
Examples of fuzzy duplicate tests abound: Duplicate payments with same vendor, same amount, within x days of each other; addresses with one-character differences; payments within x days of each other for amounts within y dollars or euros; account numbers that may look the same but contain different characters, such as "A165" and "AI65".
Analysts deployed complex testing algorithms to identify such items in the past. However, the enhanced Duplicates command offers a simple solution that new users can execute from day one.
The area in the red rectangle below provides the various options for enhanced duplicate detection. In this case, the search is for same Vendor Number, same Amount, and Invoice Dates within 10 days of each other, with exact duplicates excluded from the output.
The "Near" parameter is expressed in the units of the last field selected. If the final field had been the invoice amount, the search would have been for the number of currency units difference.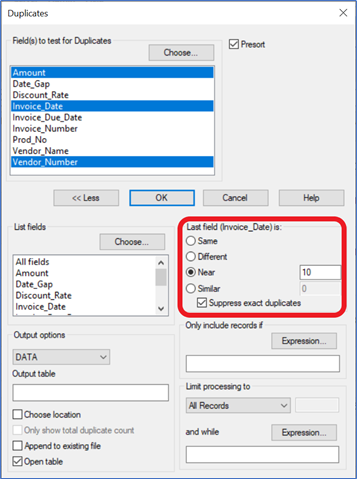 The "Similar" parameter would allow the search for items that resemble each other such as the "A165" and "AI65" previously mentioned. The parameter value would indicate how many similar characters would be searched for.