Speakers

Josephine Naicker CPA, CIA, CFE, CISA, CRMA, CCSK
Senior Manager, Technology Audit
Josephine Naicker CPA, CIA, CFE, CISA, CRMA, CCSK is a Senior Manager at Atco's Internal Audit, where she leads the Global Technology and Financial audits. Josephine prides herself in integrating cutting edge technologies to streamline Business processes and Audit. Her belief that data has the answers to solve global issues, has led her to successfully implement, sustainable Data Analytics programs for Internal Audit Shops globally, which is her current passion at ATCO. Her special interests are, RPA and Security in Cloud Technologies. Her background spanning several years involves experience at the Big 4 Audit firms, Government Audit, Internal/External Audit, The Auditor General and United Nations. She is a Member of various Audit Committees and Boards, including the IIA, ISACA & Advisor to ACFE. When she is not contributing to the advancement of the profession, she is a global philanthropist to initiatives that improve the lives of others and a budding pilot.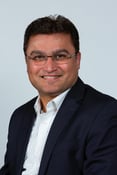 Nizar Punjani, FCA(Pak), CIA.
Senior Internal Auditor
Nizar Punjani, CIA, FCA (Pakistan), ACCA (UK), has 20+ years of experience in Internal, External and Performance Audits. He is currently employed within ATCO Limited as Senior Internal Auditor. In his current role, Nizar is part of the team responsible for embedding Data Analytics into Internal Audit projects. He has a keen interest in automating procedures to gain efficiencies for business. He led the External Quality Assessment for ATCO in 2018, where a "General Conformance" to IIA Standards was obtained.

Cameron Ollenberger, CPA, CGA, CFE, CIA.
Senior Internal Auditor
Cameron Ollenberger, CPA, CGA, CFE, CIA, has been working in the assurance field for 18 years. He spent 10 years in a regulatory audit function where Cameron's data analytics journey started using ACL. He has spent the last 8 years in Internal Audit roles, where he has expanded his working knowledge and use of data analytics leveraging these skills during Operational, Financial and Business Process Audits. He is currently working as a Senior Internal Auditor at ATCO Limited, where he was part of the team, that developed a tool using Arbutus Analyzer to perform Segregation of Duties within ATCO's Enterprise Resource Planning application.
---